Thermal control and inspection goes beyond the routine Thermal Imaging. With the support of modern software, thermal control represents a complex and a detailed evaluation of electrical installation parts. This includes the identification of specific problematic areas and potentially problematic locations and the design of operational and technical measures. All steps are professionally designed and developed in the required language.
We provide the following types of thermal inspections:
Initial inspection of new electrical installation under load
Ad-hoc inspection of the electrical installation
Inspection of the electrical installation as a result of encountered problems
Inspection of the electrical installation at the request of an insurance company or a supervising organization
Regular inspection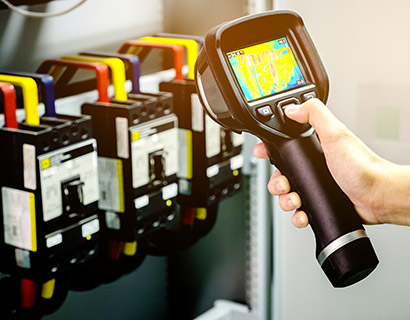 Our services are also available within short delivery times. Both national and international standards (e.g. NFPA 70B) and company's internal regulations are always followed.
Commonly Inspected Components:
Transformers
Switchboards, Switchgears, Panelboards, Panels
Motor Control Centres
Capaticors
Power Switches
Fuses and Fuse Boards
High Voltage and Low Voltage Power Circuit Breakers
Cables, Ducts and Bus-bars
Insulations
Motors and Generators
Batteries, Battery banks and UPS
Typical Reasons for Temperature Increase:
Wiring mistakes
Insulation failure
Component failure
Underspecified components
Loose or corroded connections
Overloaded systems
Harmonics
Unbalanced loads